By: the GrantAdvisor team (Kari Aanestad, Grace Fogland, Jon Pratt, Andrea Sanow)
On Monday, May 25, 2020, George Floyd, a Black man and member of the Minneapolis community died in the custody of the Minneapolis Police Department when he was pinned to the ground by his neck by a white police officer. Floyd was stopped for a non-violent forgery charge when police detained and killed him. The GrantAdvisor team believes the violence committed against Floyd, and the many other people of color by police officers, is unacceptable. We offer our condolences to Floyd's community, his family, and to the Black people, Indigenous people, and people of color (BIPOC) in our communities who experience systemic violence and trauma when events like this one continue to happen.
At a moment when the world was already disrupted by a global pandemic and strained by economic crisis, one officer's knee shattered a thin social contract. Floyd's tragic and unjust death has motivated international action toward justice, the dismantling of racist systems, and a reimagination of community. The GrantAdvisor team is based in St. Paul, MN and is finding hope in the following examples from our community of a new, just world:
Communities are strong through collaboration, not competition: A new world is emerging from the ashes of the old world (you know, the one where nonprofit fundraisers have been taught that resources are finite and that we must outcompete one another in financial survival of the fittest). Before the civil unrest and destruction following the murder of George Floyd, a global pandemic posed significant operational challenges to nonprofits and quickly resulted in catastrophic revenue loss. At least 600 businesses and nonprofit organizations in Minnesota experienced damage or outright loss of property in the last week. Community members have lost their grocery stores, pharmacies, banks. The scene was set for what could have been the most intense competition of all time.
At this time of significant loss, however, we have seen people and groups choose to support one another. Donations have flooded in and even overwhelmed groups organizing distribution centers, services, and leading reform initiatives. Instead of competing with one another for financial resources or attention, community members, organizations, and local media are self-organizing lists of organizations, initiatives, and black-owned businesses in the Twin Cities and encouraging the public's support. Both Reclaim the Block and Minnesota Freedom Fund have been overwhelmed with charitable donations (the latter recently raised $30 million in less than one week for cash bail detainees) – so much so that they have created lists of other nonprofit organizations and initiatives to support during this time. Imagine that – Nonprofits helping other nonprofits fundraise! 
Communities have solutions they need: Thousands of community members have mobilized to lead clean-up efforts, donate supplies and money, and self-organize watches to keep neighborhoods safe. They created the Minneapolis Fire Squad to put small fires out when the fire department couldn't access communities.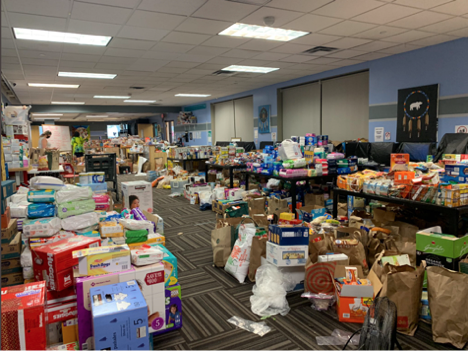 Communities have power: Power is shifting to the communities that are most impacted by racism, police brutality, and unfair economic systems that have historically oppressed BIPOC individuals for centuries. We've been inspired to observe a strong public spirit – the same that's at the heart of philanthropy (whose etymological roots in Greek literally mean the love of people "philos anthropos") working for justice. Often attention and power is invested in bigger institutions of philanthropy, which definitely play an important role in the nonprofit economy, and yet recently we've observed the power of individuals. Powerful change is being led – not by big institutions – but by people with brooms.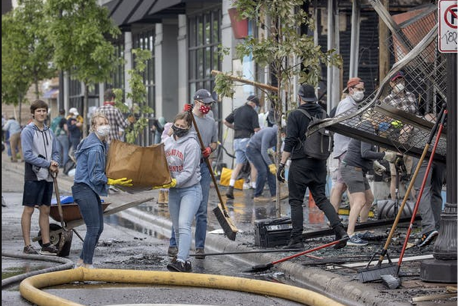 As we all work together to build a better world, the GrantAdvisor team will be using our platforms in the coming weeks to continue to lift up the experiences of grantseekers – shared with us through reviews on GrantAdvisor, emails to us, and expressed on Twitter using #awesomefundingpractices and #crappyfundingpractices (hat tip to the always amazing Vu Le for launching those trends).
Resources: